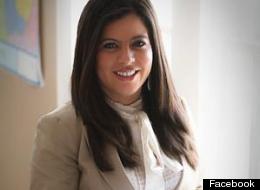 Huffington Post
Mary Gonzalez broke barriers when she became her state's only openly lesbian lawmaker when she was elected to the Texas House of Representatives.
Now, however, Gonzalez is going even further, telling the Dallas Voice that she instead identifies herself as "pansexual." As ThinkProgress notes, Gonzalez's admission makes her perhaps the only openly pansexual elected U.S. official.
Though many might describe Gonzalez's orientation as bisexual, pansexuals don't believe in a "gender binary," and hence can be attracted to all gender identities.
Gonzalez specified to the Voice that she doesn't believe in a gender binary because "gender identity isn't the defining part of my attraction," and that she never fully embraced the term "lesbian." Although she came out as bisexual at age 21, Gonzalez said she has also dated transgender and "gender-queer" people, in addition to women.
"During the campaign if I had identified as pansexual, I would have overwhelmed everyone," she said. "Now that I'm out of the campaign, I'm completely much more able to define it."
Gonzalez, who reportedly beat two opponents in the Democrat primary and has no opponent in the fall, continued: "As I started to recognize the gender spectrum and dated along the gender spectrum, I was searching for words that connected to that reality, for words that embraced the spectrum. At the time I didn't feel as if the term bisexual was encompassing of a gender spectrum that I was dating and attracted to." ...