Huffington Post
While the Supreme Court's decision in the DOMA case made it possible for ACLU attorneys to question the legality of anti-gay laws, there are still some within the gay community who wonder if their kind of love will ever be sanctioned.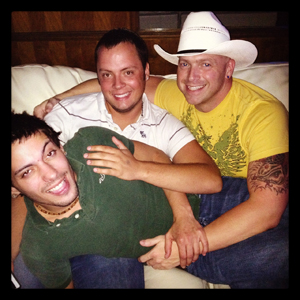 What do a German man and two country boys have in common? The short answer: a polygamous marriage of sorts -- and more interestingly yet, they do not approve of gay marriage.
While some think of the idea of being in a relationship with more than one person as foreign, the self-proclaimed "threeo" are fine with their situation. In fact, they hope that one day America will be open enough not only to accept gay marriage but to accept folks who live and love the way that they do.
Kevin Coins, a slender, 22-year-old man with an animated face and semi-dark features, met Christopher Williams, 43, a shaved, blue-eyed, toned man who exudes confidence, and Jacob Bowers, 27, of Lexington N.C., a man with beautifully toned skin and a mysterious air about him. Williams and Bowers had already been together about seven years by the time Coins came jingling into their life.
Nestled with a gaggle of animals in a modest country house on several acres of land on the outskirts of Winston-Salem, N.C., an area most would consider rural, are three men who love and care for one another.
"We had been talking about it some and decided that having a third would complete our relationship," said Williams. Most people are lucky to make a relationship work with two partners. One can only imagine what it takes to make it work with three.
The term "polygamy" derives from the Greek "polugamos," for "often marrying." In layman's terms it usually means having more than one wife, but in the case of gay men, it means having more than one partner. Polygamy is a social practice that is not well tolerated in most countries and is usually against the law. These three men do their best to make the relationship work. ...